WHAT IS AN UPPER ENDOSCOPY?
An Upper Endoscopy or EGD is a procedure used to diagnose and potentially treat the upper part of the gastrointestinal tract, including the esophagus, stomach and the first portion of the small intestine (duodenum).
REASON FOR THE PROCEDURE
This procedure allows your Esse Health Gastroenterologist to evaluate symptoms of persistent upper abdominal pain, nausea, vomiting or difficulty swallowing. It is the best test for finding the cause of bleeding from the upper gastrointestinal tract and is more accurate than an X-ray for detecting inflammation, ulcers and tumors of the esophagus, stomach and duodenum. An Upper Endoscopy may be used to obtain a biopsy (a small tissue sample), or it can be used to widen a narrow esophagus or remove polyps.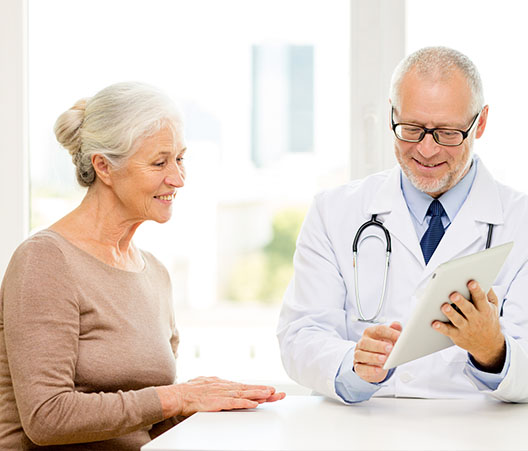 PREPARING FOR THE PROCEDURE
An empty stomach allows for the best and safest procedure, so you should not eat or drink, including water, for 6 hours before the procedure. Tell your doctor about any medications or supplements you take prior to the procedure. If you are taking blood thinning medications, your doctor may recommend you stop taking them a few days before the endoscopy. If you have chronic conditions such as diabetes, heart disease or high blood pressure, your doctor may have special instructions for you.
THE PROCEDURE
Your doctor may spray your throat with a local anesthetic and give you a sedative to help you relax. As you lie on your side, an endoscope (a thin, flexible tube with a light and a camera) will be passed through your mouth and into the esophagus, stomach and duodenum. The endoscope does not interfere with your breathing.
POTENTIAL SIDE EFFECTS, RISKS, AND COMPLICATIONS
Upper Endoscopies are safe procedures, and complications are rare. You may experience a sore throat or some bloating due to the air introduced into your stomach during the procedure. Some possible risks are bleeding at a biopsy site or where a polyp was removed, perforation or tearing of the gastrointestinal tract, reactions to the sedative used and infection. It is important to recognize early signs of possible complications. If you have a fever, trouble swallowing or increasing throat, chest or abdominal pain following the procedure, tell your Esse Health doctor immediately.